Psoriatic Arthritis: More Than Just Joint Pain
Last updated: December 2020
It is no surprise that having psoriatic arthritis (PsA) can impact a person's overall quality of life. People with PsA are not only experiencing painful, swollen joints, but they are also dealing with mental, social, and other physical symptoms related to PsA.
We conducted a large survey of people who have psoriatic arthritis and asked a number of questions about what it's like living with this chronic condition. Over 1,000 people completed the survey. Here are the highlights from what our community shared with us.
The most common physical symptoms of psoriatic arthritis
People with PsA often describe fatigue and pain as their most commonly experienced symptoms. These kinds of physical symptoms can lead to a lack of energy, productivity, and motivation.
Sometimes there's a perception that people with PsA are "lazy", but that is far from the truth. Instead, they are experiencing painful symptoms that limit their ability to do the things they may have once did.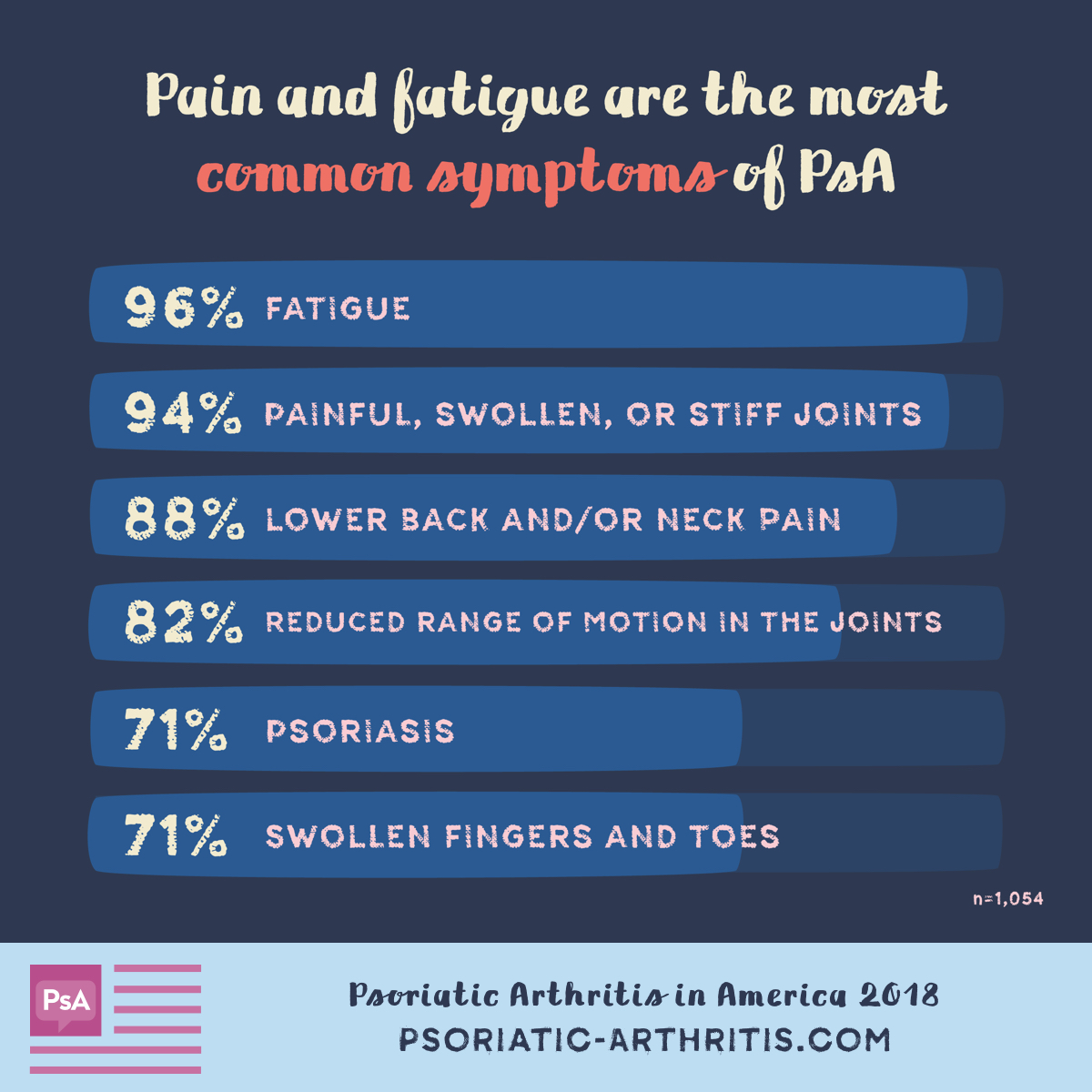 The added pains of multiple health conditions
In addition to experiencing fatigue and pain, over 99% of people surveyed told us that they were diagnosed with another health condition in addition to PsA. Having multiple health conditions can aggravate symptoms and make living with PsA even harder to manage.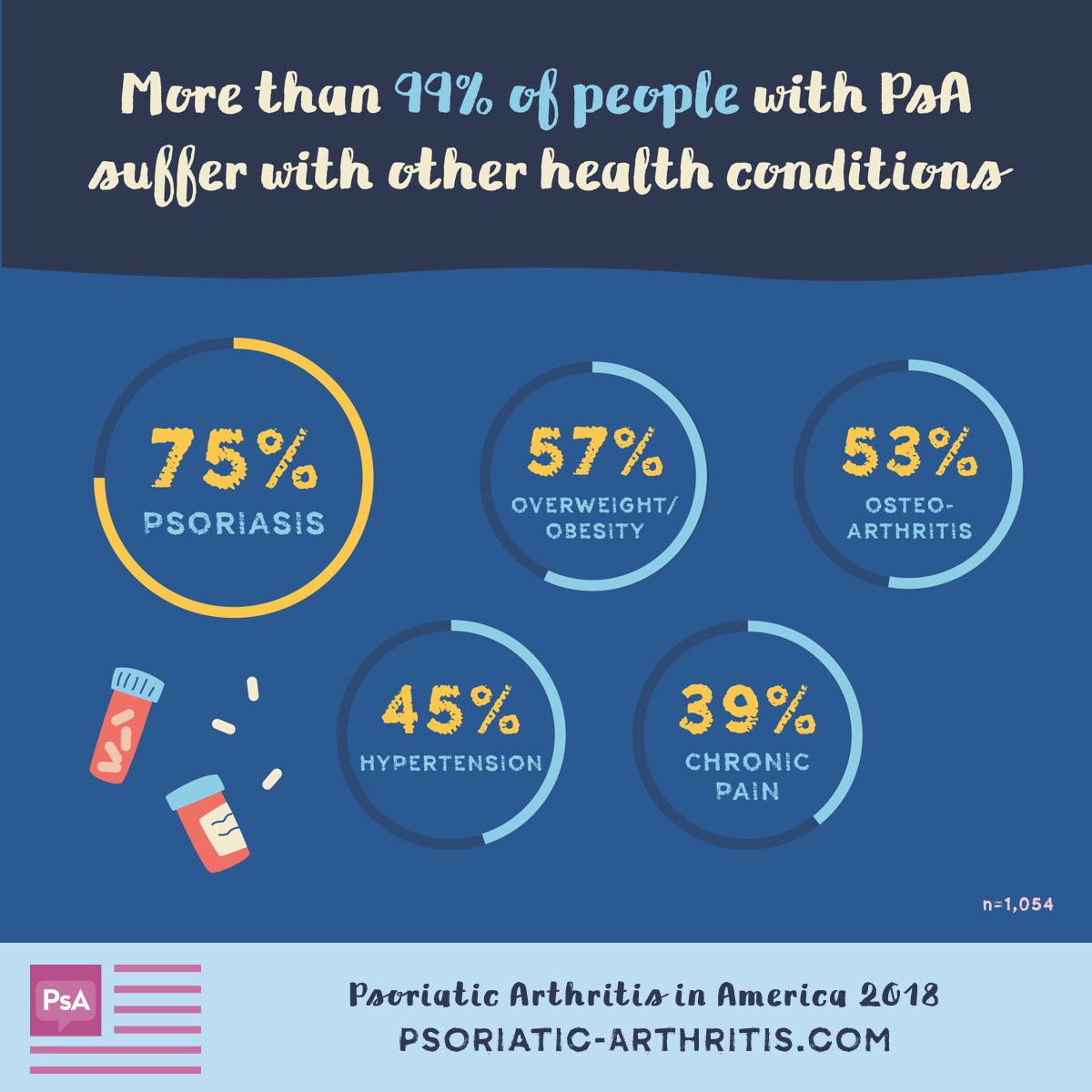 How are mental and emotional health impacted?
More often than we'd like to admit, people with PsA may feel worried, sad, nervous, or depressed. It is completely normal to feel these emotions - know that you're not alone if you're experiencing these feelings.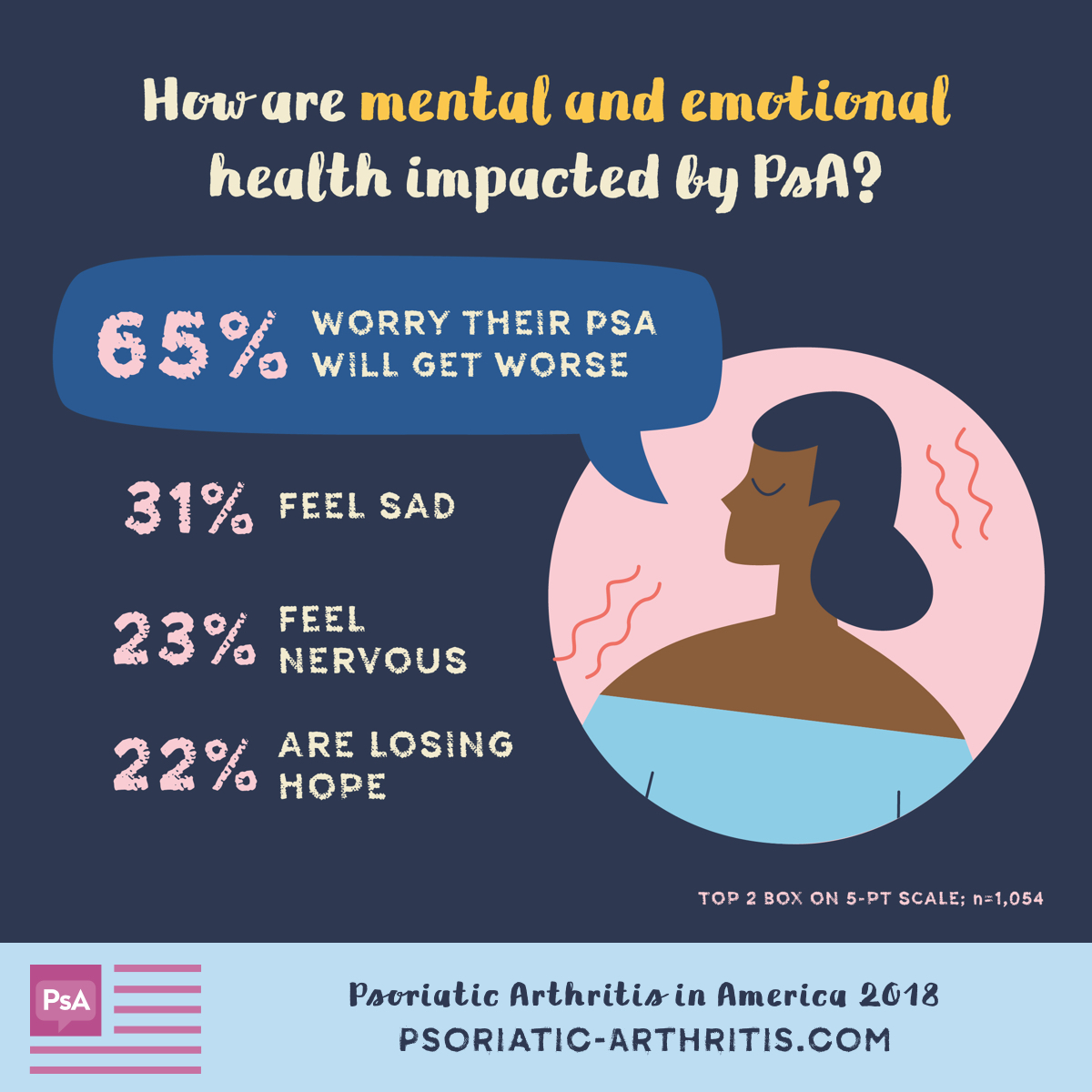 How are relationships with friends and family impacted?
Beyond physical and mental well-being, social well-being is also impacted by PsA. Many people with PsA are experiencing intimacy issues as a result of their PsA diagnosis. They also feel as if they aren't getting the support needed from friends to help cope with and manage their condition.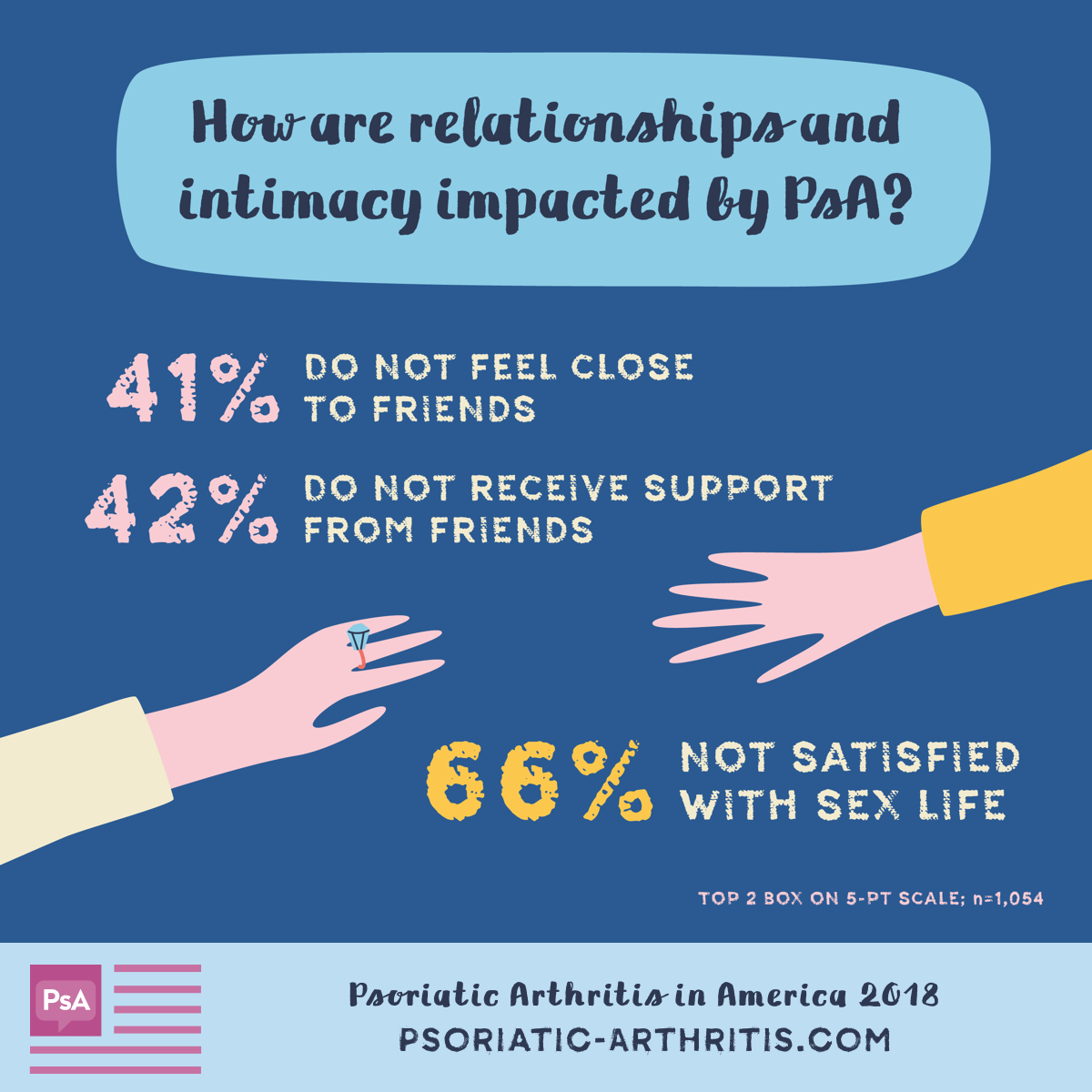 It's never too late to ask for help
Fortunately, about two-thirds of people who took our survey told us that they have someone involved in their care - usually their spouse. Getting help from loved ones can provide much needed support when attempting to overcome the emotional hurdles that come with having PsA.
It helps people with PsA feel less alone. Also, help from others may allow people with PsA to conserve their precious energy.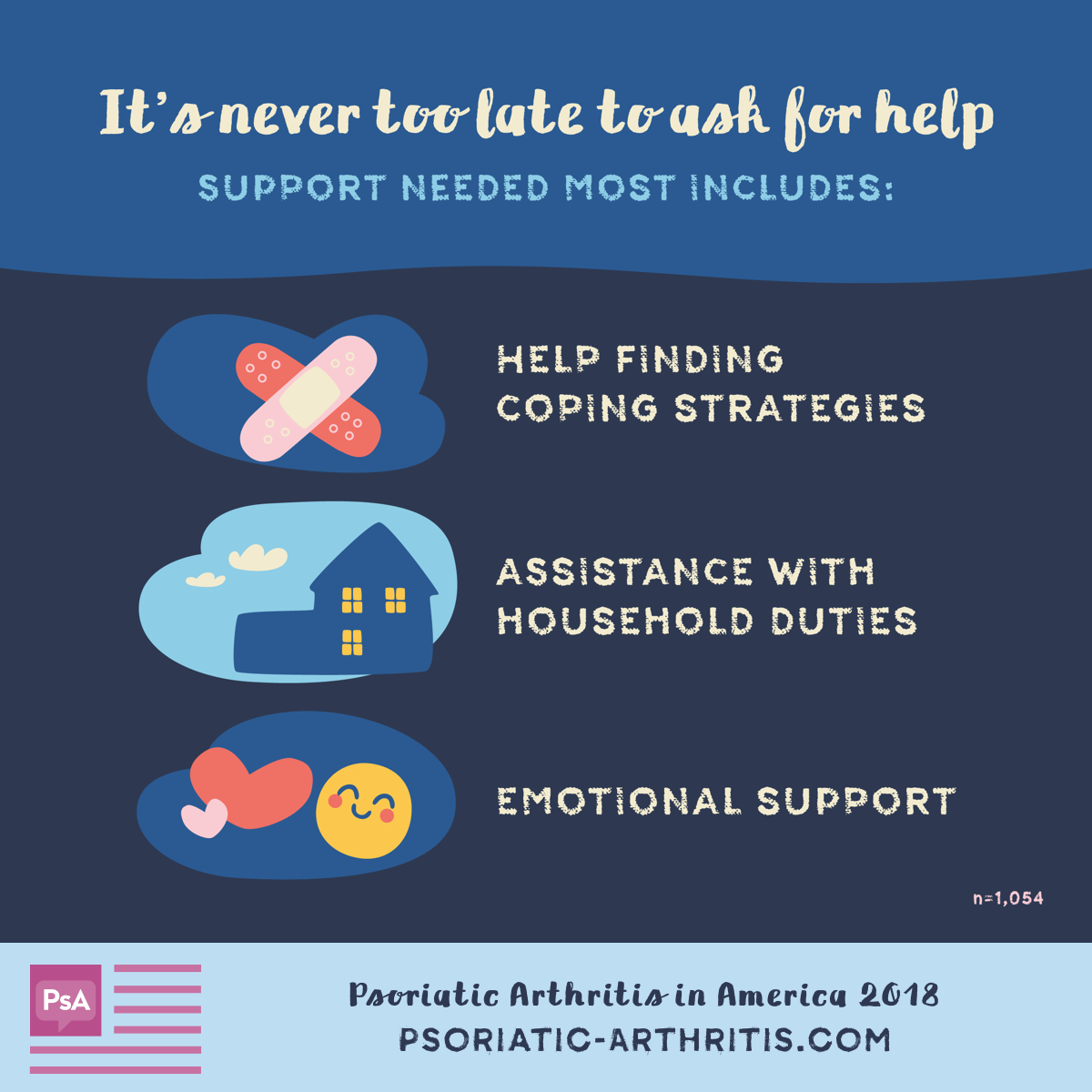 Asking for help is a sign of strength and can be used as a coping mechanism, so don't hesitate to reach out to others!
We also have a supportive community right here at Psoriatic-Arthritis.com, so if you're still struggling with the physical, mental, and/or emotional aspects of PsA, please connect with us on Facebook or in forums.
The Psoriatic Arthritis in America 2018 survey was conducted online from June 1 to June 25 of 2018. 1,054 people completed the survey.

Community Poll
Do you usually need to recover from a vacation?