The Connections of Psoriatic Disease: The Impact of A Flare
Last updated: January 2023
Our community and dedicated community members here at Psoriatic-Arthritis.com and our sister site, PlaquePsoriasis.com help us understand the deep and painful connections of psoriatic disease. In addition to engagement within our forums, stories, and comments, we gain valued insight from our annual In America survey - which surveys real people living with psoriatic arthritis and psoriasis.
We don't take this responsibility lightly - our top priorities have been to reshare information we've learned back to the community to provide emotional support, important resources, and that right kind of reassuring validation.
A look at flares across conditions
In addition to social listening and official survey results, we're eager to share some of the connections and disconnections we've found across the psoriatic communities. So much, in fact, we've created a few articles. We have covered the topic of disease progression as well as the variation and painful realities of remission. In this article, we will be focusing on the topic of psoriatic flares and all that comes with them.
PsA and inflammation flares
Could even the word "flare" be triggering? Maybe. While flare might have originally been associated with a sudden burst of a bright flame or wide-legged pants, the word flare has taken on a whole new meaning when it comes to managing life with chronic illness. When it comes to PsA flares, inflammation rises with increased aches and pains.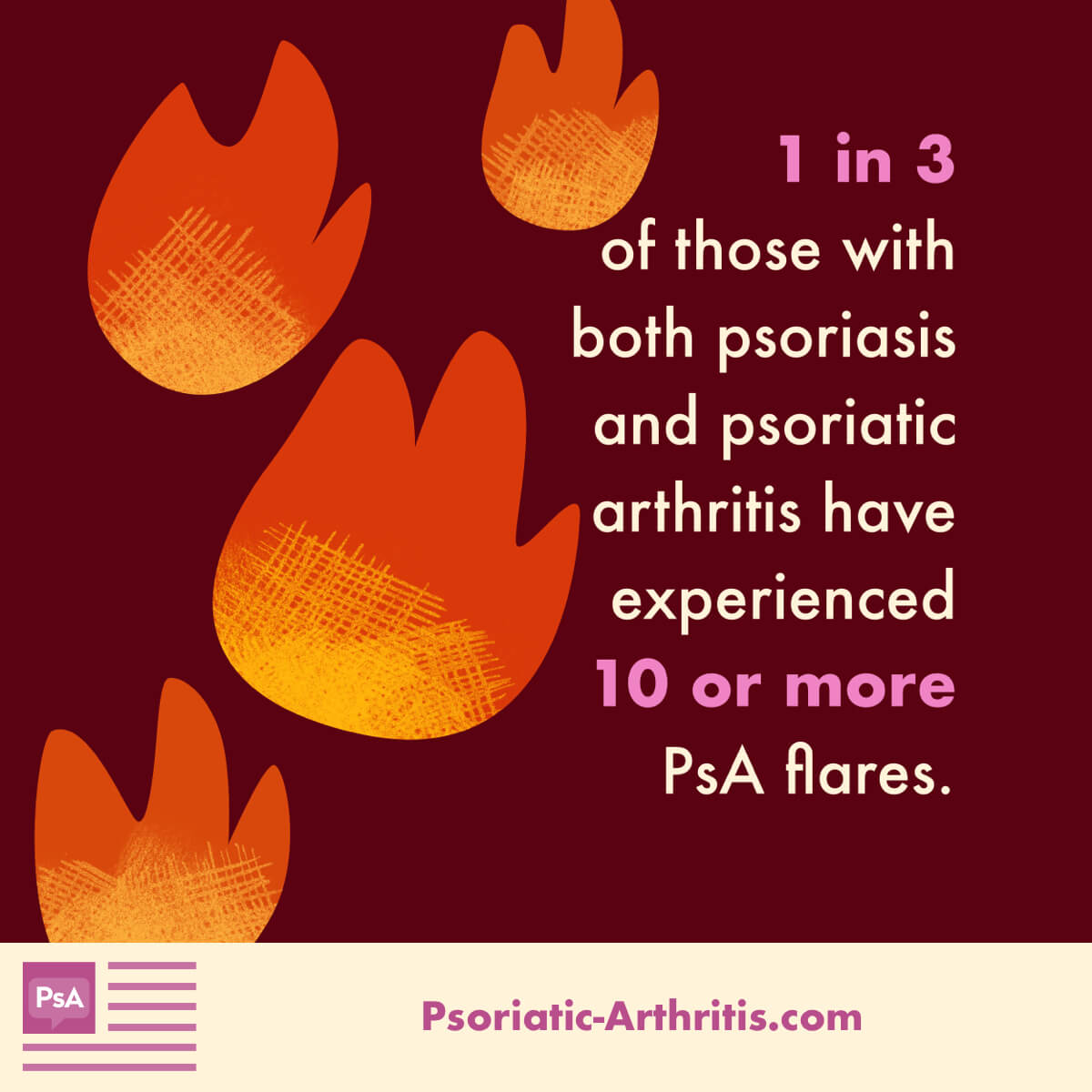 Psoriasis and skin flares
Flares are periods of time when symptoms become worse than usual. When it comes to psoriasis, a flare can mean the appearance of new plaques in new locations and increase fatigue. Flares look different for everyone. One thing we can all agree on, the inconsistency and randomness of flares can take a big toll on how we manage our lives.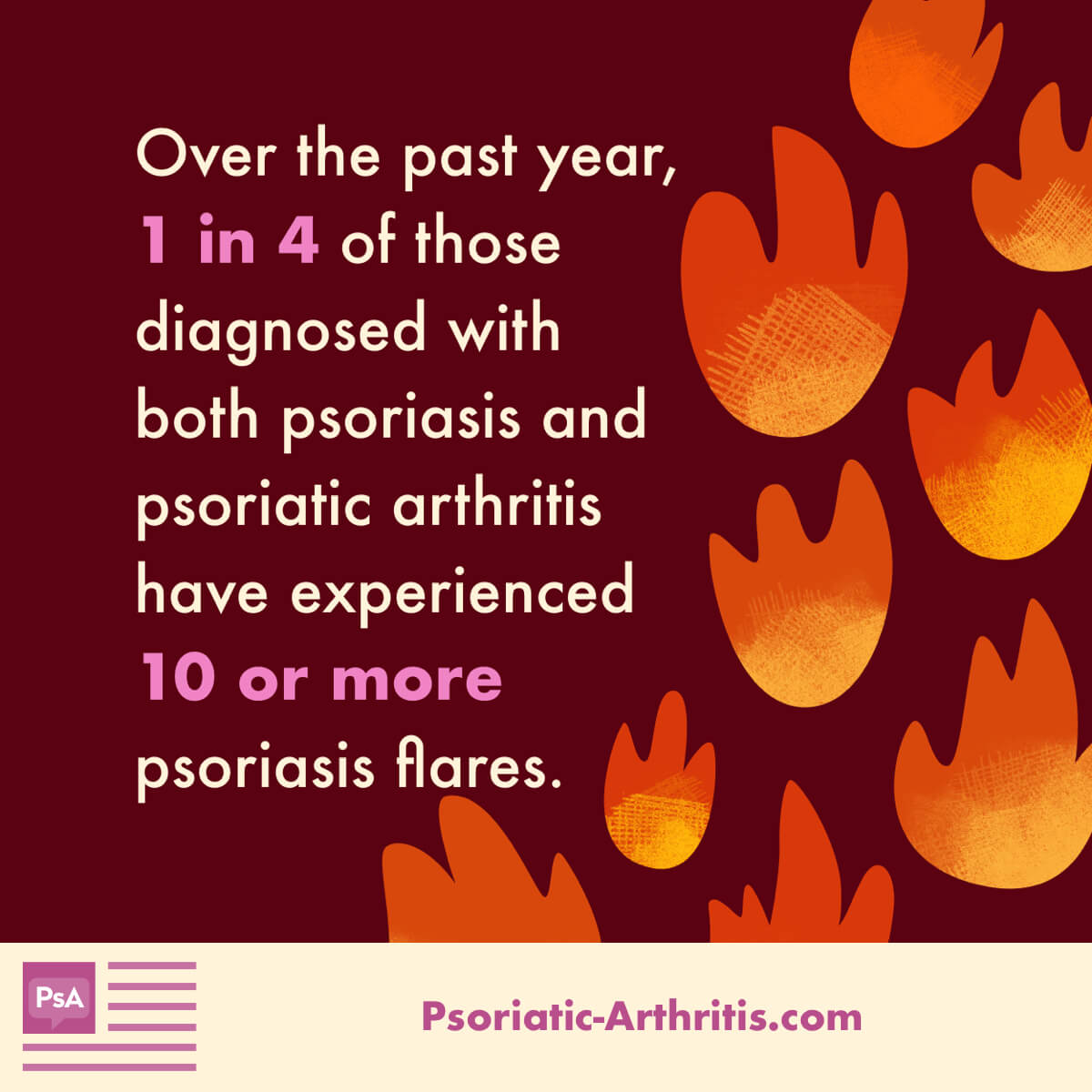 What else does the community have to say?
Managing psoriatic arthritis and even the idea of the looming flare is not easy. We asked our Facebook community, "A painful flare can be debilitating. When was your last flare and how did it impact your day?" Here are a few of their responses:
"My right knee feels like someone has shoved a stick under my knee cap and broke it off."
"Sitting for 20 minutes feels like I dove several hours behind the wheel."
"I get out of bed slowly and take my pain meds. I then rest an additional 30 minutes to let them kick in"
"I thank the Lord there are no stairs to my front door"
Learn more about finding relief for the next flare
Direct from PsA advocates, take a look at how flares can impact so many areas of our lives. Cynthia shares her flare day survival tips. Spoiler: hydration, Netflix and no guilt! Elizabeth focuses on flare triggers - including the common cold. And how about the emotional impact of a flare? Let Leanne break down her own experience
If you're looking to share some content with someone who might not get it, Clair shares support tips for loved ones and the importance of emotional support.
We're here for you
Psoriatic arthritis can take a significant emotional and physical toll in so many areas of our daily life. Here at Psoriatic-Arthritis.com, we're a community that offers a safe place for sharing, support, validation, and kindness.
However you feel comfortable getting involved, we're here for you.
This article represents the opinions, thoughts, and experiences of the author; none of this content has been paid for by any advertiser. The Psoriatic-Arthritis.com team does not recommend or endorse any products or treatments discussed herein. Learn more about how we maintain editorial integrity
here
.

Community Poll
Do you ever feel burned out from psoriatic arthritis management?