Understanding The Emotional Challenges of Psoriatic Arthritis
Life is different when you live with psoriatic arthritis (PsA). More than just physical, pain from PsA can cause feelings like anger, hopelessness, sadness, and anxiety. Results from our 2021 In America survey show how the community is managing emotional well-being.
Time to bring the emotional and mental aspects of this invisible illness to the surface.
Defining the emotional impact of psoriatic arthritis
The painsomnia that comes when it is finally time for bed. The stress and fear of progression and managing appointments. The guilt that comes with canceling plans and the fear you will not be asked again. More than 30 percent agreed that PsA impacts their mood, self-esteem, and overall confidence.
Sleep, stress, self-esteem, and relationships are only a few of the many factors that can make it harder to manage emotions with PsA.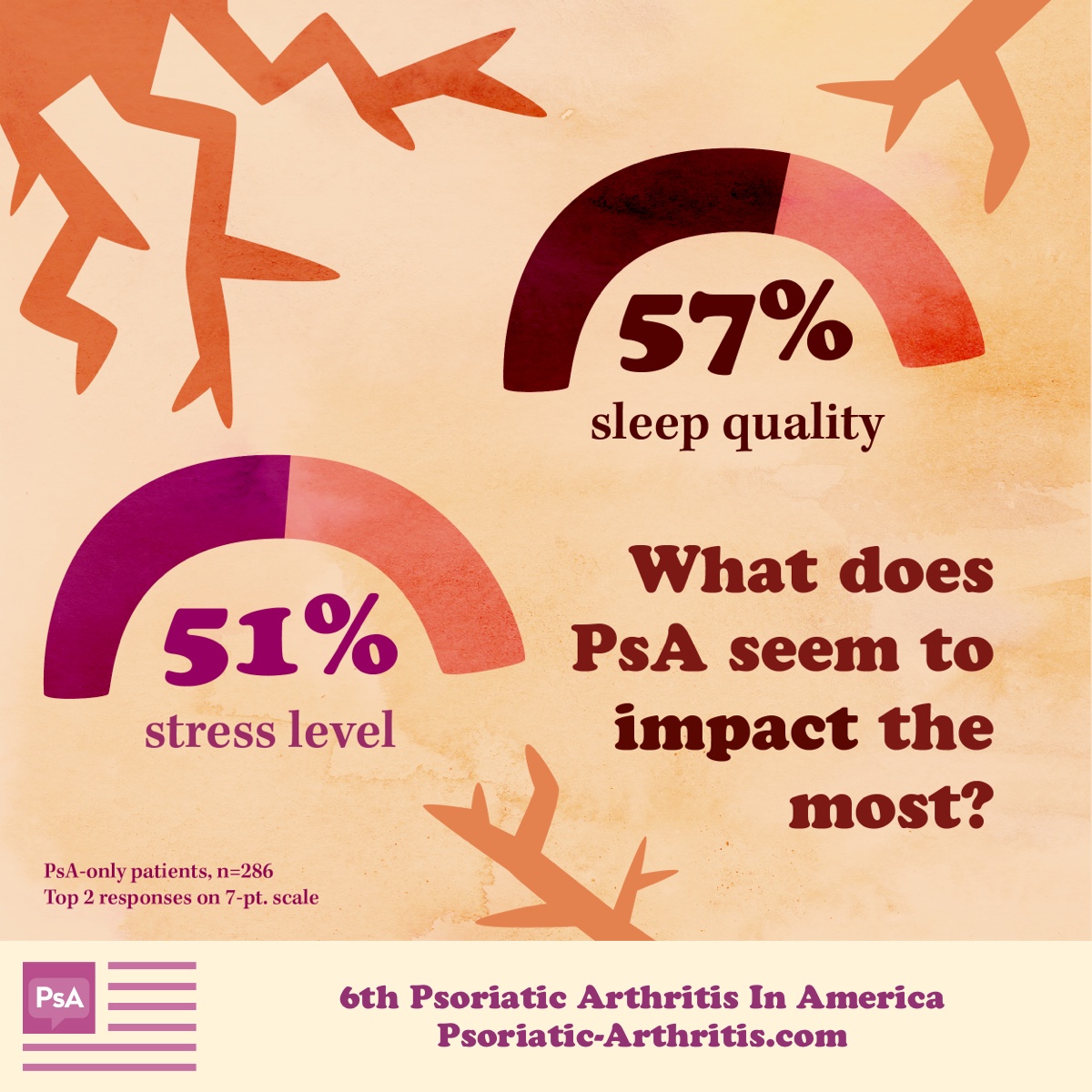 What is work-life balance?
It is easy to feel misunderstood in the workplace and even at home. Those with PsA may appear healthy but balance their share of challenges that make work and social events difficult. Sometimes it feels like coworkers or loved ones who know about their diagnoses just forget.
PsA brings its own set of unique hurdles when it comes to managing professional and personal relationships. It is important to talk about what you are experiencing openly to foster compassion and understanding.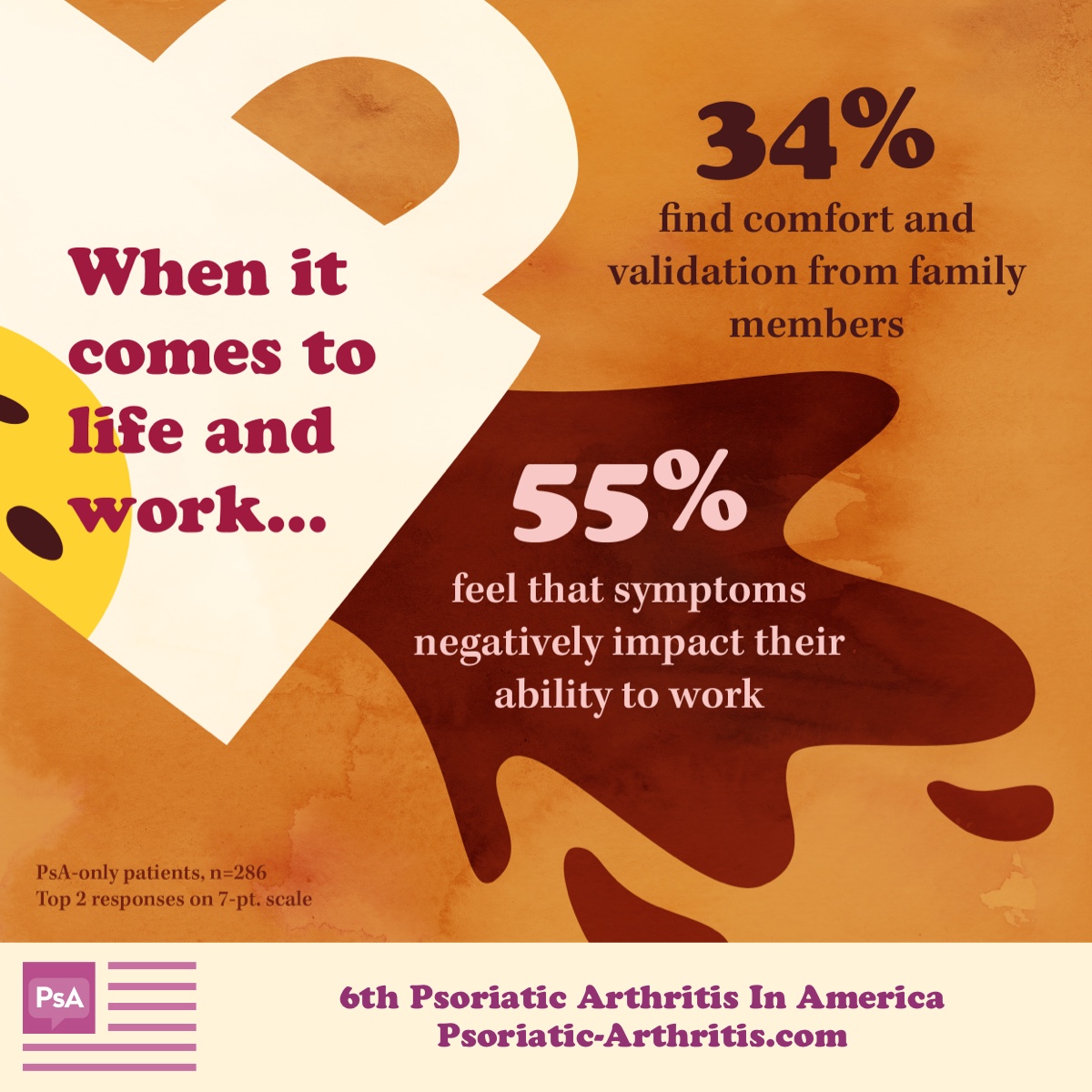 The truth about emotional health
Many of those with PsA talk about how difficult it can be to engage in hobbies, maintain relationships, and manage anxiety. Avoiding triggers is hard enough, but managing them in addition to what our daily life requires of us can be draining. If you are struggling, please know you are not alone.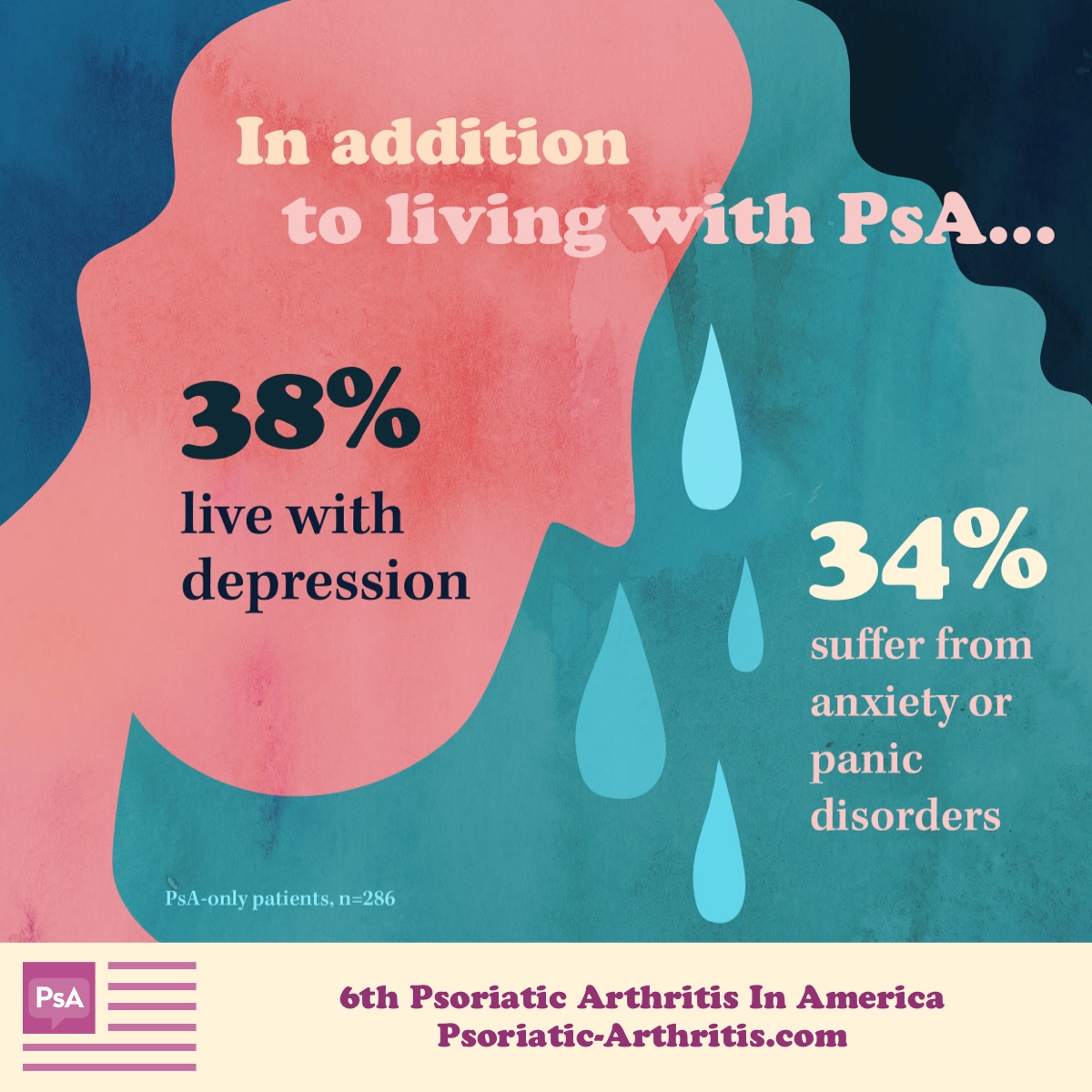 Treatment expectations for PsA
PsA can have a significant effect on a person's life, but timely and appropriate treatment can help reduce its impact. While 68% of PsA patients rely on their doctors' recommendations regarding treatment and medications, it is important to know there is often a gap between treatment expectations and treatment outcomes.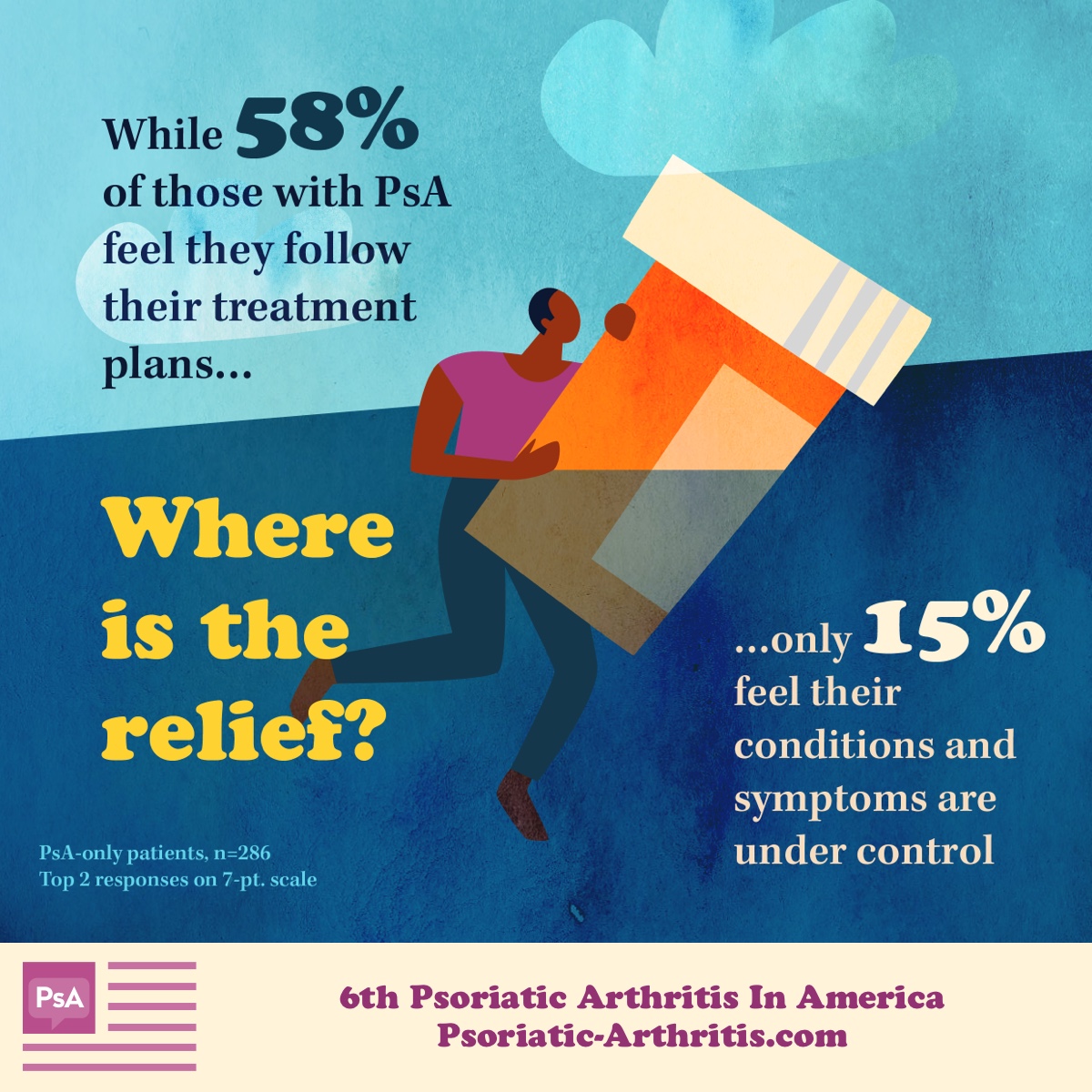 The power of community
There is validation and acceptance when we find a connection with someone else. This is especially true of those who live with PsA. Other members of online communities can not only confirm symptoms and treatment experience but provide support to those who are struggling.
So, what are people searching for? Medications, treatments, symptoms, and pain management are the leading topics of interest of those who live with PsA.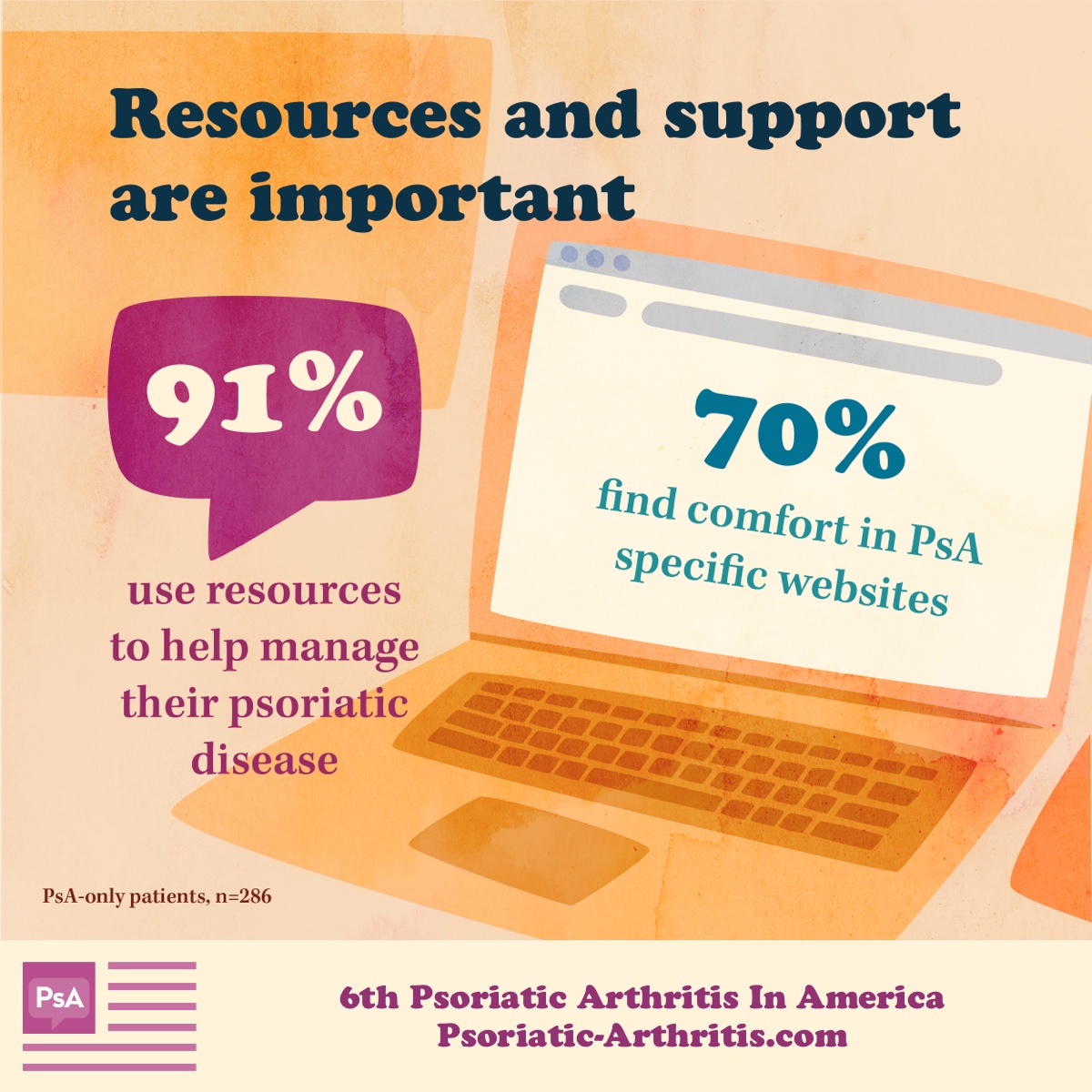 Finding the right support for mental health
There are many myths when it comes to mental health. Understanding and managing their thoughts, emotions, and behaviors can help those with PsA cope more effectively with chronic pain – and can actually reduce its intensity. So, where do you start?
If you would like to improve your emotional and mental health, it is important to work with your doctor. Take the time to look at your whole treatment plan and have an honest conversation. Additional tips include:
Talking with others: Opening up to loved ones and finding a support group are 2 ways to combat isolation. A person can get emotional support from someone else who understands what they are going through.
Stress management: Meditation, breathing techniques, and staying mindful are practices that can improve your overall outlook.
Low-impact exercise: Keep the joints flexible and mobile while releasing mood-boosting brain chemicals called endorphins.
Therapy: Finding therapists who specialize in chronic conditions can help people come to terms with their diagnoses and learn how to cope when things get tough.
Join our psoriatic arthritis community
We know that PsA is so much more than joint pain and skin symptoms. While it may cause inflammation, swelling, and fatigue, it also causes anxiety and uncertainty. Our community offers the space to share, connect with others, and receive support.
Nurturing our emotional well-being helps us to build a community of strength, trust, kindness, and understanding. No one has to go through their PsA journey alone.
If you have not joined our community yet, you can do so here.
The 6th Psoriasis and Psoriatic Arthritis In America 2021 survey was conducted online from December 2020 through March of 2021. Of the 1,409 people who completed the survey, 286 were diagnosed with psoriatic arthritis, 436 were diagnosed with psoriasis, and 687 had a dual diagnosis.

Community Poll
Do you have any questions about PsA?