Community Member Spotlight: John
Last updated: October 2023
Life with psoriatic arthritis (PsA) differs for everyone. No experience is the same. To highlight diverse experiences during Psoriatic Arthritis Awareness Month, we are spotlighting some active community members.
Meet John!
We recently spoke with John Buckley, an active follower on Twitter. John regularly interacts on our Twitter page to share his experiences with psoriatic arthritis. Time to get to know John!
When were you diagnosed with psoriatic arthritis?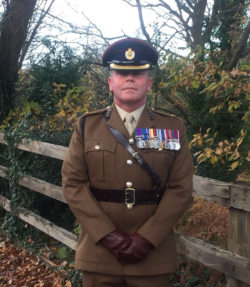 I was first diagnosed with psoriatic arthritis (PsA) way back in the late '90s. As a serving soldier in the Royal Engineers, I was always encountering aches and pains and thought nothing of it.
Whilst playing hockey, my back went into what I can only describe as a spasm and I required physiotherapy for a period of time. During therapy, the physio noticed a very slight skin rash and on investigation determined it was psoriasis. This joined the dots, and I was subsequently diagnosed with PsA.
I continued to serve in the British Army since 1987 and have racked up 33 years of service so far, currently serving in the rank of Major. My condition has worsened considerably over this time and it has been a game of leapfrog between arthritis and psoriasis. I've lost count of overseas operational deployments where I've had to push the physical boundaries in order to deploy and do my job, but what I can say is that my superiors have been supportive throughout.
The military medical system has managed me and looked after my well-being. It's been a long road, and with only 4 years remaining I feel I have a grip on my condition. And Humira has had a massive part to play in controlling my PsA.
What triggers your psoriatic arthritis flares?
Work, food, drink, and weather have all been key contributors to PsA. Stress is most definitely my Achilles' heel. A stressful environment in which I work has such a negative impact on my health. I should take advice from colleagues about controllables and uncontrollables, but I refuse to fail.
What is the most important thing you have learned while living with PsA?
PsA is not the end of the world. I refuse to be beaten. Out of sheer stubbornness, I have overcome pain by pushing myself even more. At the time of writing this, I'm due to complete my first Ultra Marathon in Reading and have already clocked up numerous marathons along the way.
Don't get me wrong, I don't expect everyone to complete challenges like this, and everyone's condition varies. What I am saying is we can do something that is a small victory, and it's those victories that keep us going.
What do you find beneficial about this community?
It's great to share our own challenges and tribulations with people with similar conditions. I've hidden my condition for years, especially my skin issues. Hiding behind long-sleeved shirts, etc. has been my own way of denial, but reading articles makes me feel more in control and much happier to share.
Staying motivated when managing PsA
What I've learned while tackling the PsA journey is to stick to what is prescribed. I've become disheartened at times and stopped using the lotions and potions and meds. The moment I did this my condition worsened. I've a supportive family that keeps me on the straight and narrow, and more importantly, I think I've come to terms with not being ashamed of my condition.
Will you share your experiences living with PsA too?
This article represents the opinions, thoughts, and experiences of the author; none of this content has been paid for by any advertiser. The Psoriatic-Arthritis.com team does not recommend or endorse any products or treatments discussed herein. Learn more about how we maintain editorial integrity
here
.

Community Poll
Do you have any questions about PsA?