Adventure Travel with Psoriatic Arthritis
Last updated: November 2021
My younger sisters, Denise and Lisa, and I started planning a fall trip to Costa Rica back in March, our first big trip together, and both of my sisters' first time out of the country. 
Sometime in August, I was having lunch with my friend Jo. I told her all about our trip coming up in September. We'd rent a car at the airport, drive to the Pacific Coast for a few days on the beach, then drive to the interior of the country to a rustic cabin in the middle of the rainforest to finish the trip.
Jo said something that changed everything about the way I viewed this trip: "I never thought of you as an adventure traveler." Adventure travel? What had I gotten myself into?
A few lessons learned
I am not going to lie. That innocent statement from a friend gave me a lot of travel anxiety. But now, looking at pictures of myself sunning on rocks in the river and hiking up steep and uncertain terrain, I feel like a total badass. This was absolutely adventure travel.
The trip with my sisters was for one week and we all managed to pack in carry-ons. We thought this would be faster and easier than checking our bags, though I had not considered the logistics of rolling a piece of luggage in one hand while using a cane in the other.
I have had a wrist fusion in my right wrist and the bend required to pull luggage was not comfortable, and this was required for hours through the busy U.S. airports. For the next trip, I will probably invest in a nice piece of 4-wheel luggage.
Understanding and respecting my boundaries
Our first destination was the beautiful Playa Jaco. Our condo was beachfront and we enjoyed the views from our balcony. The walk to the beach was not difficult, but not as quick and easy as our fourth-floor view would have us believe. Because of my psoriatic arthritis pain, after one walk to the beach, I decided that I would enjoy it more from the balcony.
On the second day, we got an early start exploring shops in downtown Jaco. It was mid-morning, around 10:00, when I realized I had to stop. My sisters weren't ready to stop browsing for local art, so I went back to the condo on my own and had a lovely time reading by the pool. Understanding and respecting my boundaries made the trip more enjoyable.
The beauty of support
Our next stop was La Fortuna, in the rainforest of Costa Rica. It was spectacular and mountainous. Directly behind our cabin was a beautiful path that led to a waterfall. We could hear the howler monkeys from our porch. There was no way I was going to miss this hike into what seemed like it must be a wonderland.
Fortunately, Denise and Lisa were very accommodating and made it easy for me to join them. When we reached rough terrain that required climbing, they would help me by allowing me to use them as support. When walking on my own, with a cane, they always kept a watchful eye on me, making certain that they could reach me if I needed them.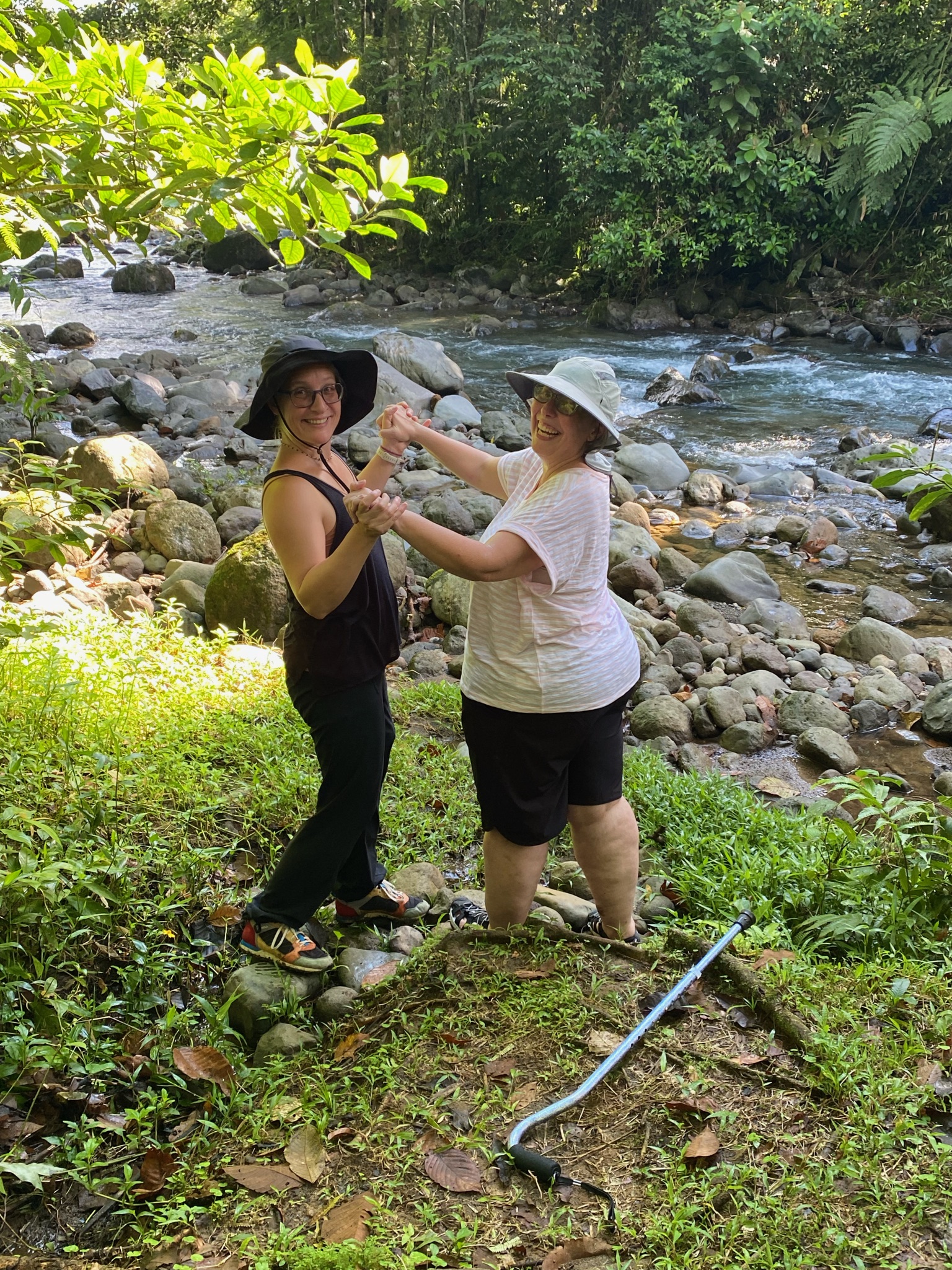 At one point, coming down a rather treacherous set of makeshift stairs, Lisa stood in front of me and held out her arms, waiting for me to reach out to her for support as I stepped down.
Evidence of determination
We had several days of adventures, with so many opportunities for Denise and Lisa to both get a firsthand view of life with psoriatic arthritis. While they have always known about this disease and how I have struggled, I am not sure that they have ever been face-to-face with how it affects my daily life.
As you can imagine, we posted so many pictures on this trip! But in all of them, all you can see is us having a great time. You can't see the struggle. You can't see the pain. I hope you could see the determination!
Adventure with PsA is possible. Travel with people you can rely on to help you and respect your limitations so you can be ready for the next fun thing. This trip was the adventure of a lifetime. I'm so thankful to Jo for recognizing that I am an adventure traveler!
This article represents the opinions, thoughts, and experiences of the author; none of this content has been paid for by any advertiser. The Psoriatic-Arthritis.com team does not recommend or endorse any products or treatments discussed herein. Learn more about how we maintain editorial integrity
here
.

Community Poll
Do you usually need to recover from a vacation?