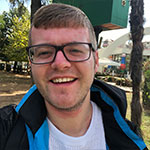 Jack was previously an advocate on Psoriatic-Arthritis.com.
Jack is a contributor and moderator to the Plaque Psoriasis community, and a moderator for the Psoriatic Arthritis community. He has suffered from psoriasis since he was 11. His mother took him to the doctors after noticing several red-looking lesions. He has been keen since to document his own journey with the condition and is always keen to hear others' journeys with both psoriasis and psoriatic arthritis.
Click here to learn more about Jack on Psoriatic-Arthritis.com.